We recently received this reader request:
I have just started a postdoc and received an invitation yesterday to attend a new faculty reception next month where I will be formally welcomed along with several other new faculty members.  As this will likely be my first opportunity to meet the full faculty and administration, I want to make a good impression.  The reception is in the evening and my university is in the South. I have noticed that even though it is very hot here, people dress for the air-conditioning and generally are more dressed-up than I am used to.  In terms of dressier but professional options: I have a short-sleeved lighter-weight black wool dress that I could dress up with belt and heels, or I could wear a pants suit with a nice blouse underneath.  Do you have any ideas?
Congratulations on the postdoc position!
We think it is great that this reader plans to use an item already in her closet.  It's always fun to have a new outfit for the first day of school, a conference, or other important event, but remixing items you love in a way you never have before allows you to create a whole new ensemble without spending a penny. If wearing a new item will help make you feel special for that special occasion, look for a new belt, shoes, or accessories to help spruce up that old standard.
Click through the jump for some ideas!
We would personally all choose the wool dress over the suit.  Alternately, we would recommend breaking the suit up and mixing the jacket with a dressier skirt or the pants with a blouse or cardigan with some added visual interest.  However, the suggestions below could be applied to the dress or the suit, so wear what makes you feel the most comfortable and confident!
We don't know exactly what this reader's wool dress looks like, but we strongly feel that a little black sheath/shift/suit dress is a great item to own for the professional wardrobe and recommend this as a great investment piece.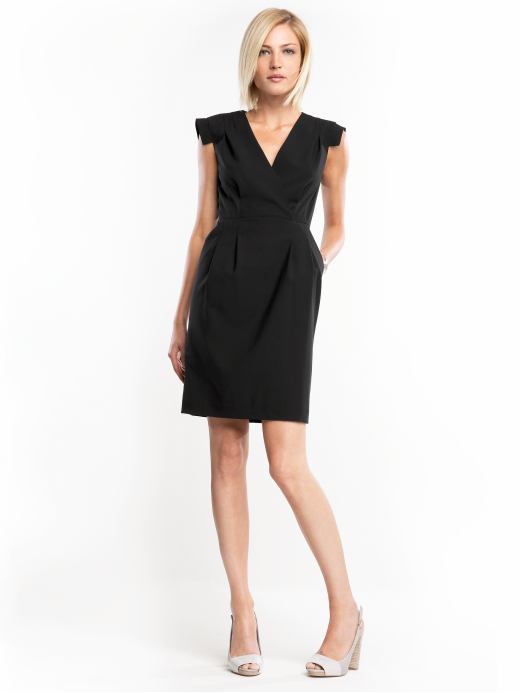 We found this Lightweight Wool Sheath Dress on the left at Banana Republic and this Stretch Flannel Del Pelato Shift Dress at J Crew.  Both stores have several great options right now with a variety of different cuts and added details.
Tip 1: These dresses are usually come with a pretty big price tag (remember this is an investment piece), but because this is a classic item, you can also check the outlets, consignment shops, and ebay for a bargain.
Tip 2: The beauty of a dress like this is its versatility.  The look of the dress can be changed up with layers, accessories, etc, so don't choose a dress with too much detailing around the neckline  or waist line.
Tip 3: Don't be afraid to break the black box!  Go for a navy or grey dress if that is your neutral of choice.  This  may be harder to find but J Crew has a few color options right now.
Now that you have your very sophisticated blank canvas, it's time to have some fun!
Add Metallics:
Metallic accessories are easy to find right now and can be a fun and sophisticated way to add just a small amount of color and really dress the look up.  Try mixing a silver belt with pewter shoes and a pewter clutch:
Add Color:
You can stick with a great pair of black heels and a either add a pop of color in your clutch or your belt. Or if you are feeling a little more daring, try black wedges with a yellow clutch and red belt for two-thirds of the red-yellow-blue triad.
Now, of course, you know we love a colored shoe, so we are always a fan off adding a pop of color at your feet!
You can have fun with color but go for sophistication rather than drama by avoiding primary colors.  Try combining a fuchsia belt with teal shoes for a twist of the complimentary pairing of red and green.
Add Special Touches:
Try making your own flower belt, wearing a brooch, wrapping pearls around your wrist, adding a couple of your favorite chunky bangles, layering your necklaces, or playing around with a scarf. Let the details reveal a little about your personality and sense of style.
§ 3 Responses to Reader Question: What to Wear to a New Faculty Reception"